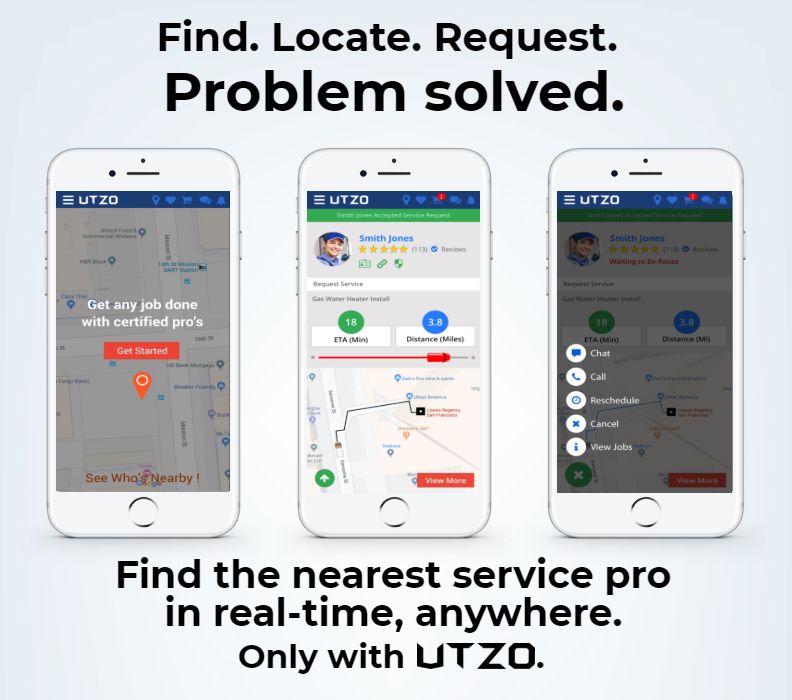 If you are like most people, you will most likely shop around for estimates before you make a decision on the service provider or product you will spend your hard earned money on. However, I am sure you know how tedious and time consuming it is to spend your entire day shopping around only to give up more time to wait and be there for the service.
Currently, this is what the process of looking into estimates looks like: Go online or in a phone book, search for the service, start at the top of the list and contact a provider, let them know your problem and get an estimate (if they even take care of your specific problem), then repeat for each provider individually until you have the selection you want. By the time you find what you are looking for you are already exhausted! What a pain!
UTZO will make these issues a thing of the past! We make it easy for you to get multiple estimates all at your fingertips in real time! Here is what it looks like when you use UTZO to get estimates: Open the app, choose your service, select service providers near you (they are already listed by your location) and request estimates all at once! From the list of estimates, you can choose your provider and contact them directly from the app. Once you select the provider, you will also have the ability to see exactly where they are, the time in which they will arrive, reviews, insurance, photo, background check, and any other info that you may need to give you the peace of mind in knowing exactly what you are getting.
No need to shop around when everyone you need is in one App. Welcome to UTZO!
You will also have the ability to contact them directly, or even add other people to the conversation just in case they need to meet with somebody else or if you will not be there! We focus on making what may be a stressful situation easy to remedy. Download our app and give us a try today!
With UTZO everyone wins!